Enter Your Details & Get Your Free Valuation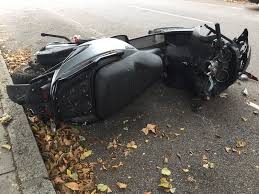 Sell My Damaged Motorbike
Have you recently been in accident or crashed? 
Well if your thinking "yes!" your are on the right. Pirate Bikes specialise in the removal of damaged motorbikes. We offer our customers the best prices in their local area. We Cover All of London and Essex so chances are we can help you. 
There are 4 types of insurance write-off categories, Listed Below  
A – Cat A Motorbikes are scrapped after they are written off by the insurer.
B – Cat B Motorbikes are written off but there may be certain parts which may be salvaged and sold on. 
S – Cat S Motorbikes have sustained structural damaged probably from a crash. These motorbikes can be repaired and put back on the road. Cat S motorbikes must be re-registered with the DVLA before being put back on the road. 
N – Cat N Motorbikes have non-structural damaged for example light. Cat N do not need to be re-registered with DVLA, but you will need to still inform them that the motorbike has been written-off. Cat N can be put back on the road. 
We buy all damaged motorbikes from A, B, S and N! , In fact we buy any motorbike!
So if your now thinking "how do i sell my damaged motorbike?" with have put together the step the are taken to sell your damaged motorbike to us. 
Step 1: Get In Contact. There are a few ways you can do this. The Best Ways are phoning directly through our number (07377 706 620) or Filling out a form located at the top of page. 
Step 2: Arrange Collection. If your happy with the price we quoted you. Then we will arrange a date and time when it can be collected, Along with the location or postcode of motorbike. 
Step 3: We have a few options after buying it off you. Firstly we can simply sell it on to a new owner. Secondly the more likely option that we will sell parts of your motorbike. 
IT's as simple as 1, 2, 3. 
Pirate Bikes operates 7 days  a week, hours in footer. Our aim is always to give our customers the best experience possible and best price we can give. All our drivers that collect motorbikes are professional and trained properly So you have nothing to worry about. We put no admin fee's on our service this includes the collection fee. One Last thing is that we take the environment in mind when disposing of a motorbike at a authorised treatment facility.
What do you do with a broken motorcycle?
When a motorcycle becomes broken and unable to be driven, the owner must figure out what to do with it. Some people can't afford new bikes, so they'll keep their damaged bike for a spare or sell it cheaply to someone who needs one. Selling a motorcycle is an easy way to get rid of it without throwing it away. Finding a good buyer can be difficult because there are many scams in this area of sales, so you should do some research before listing your bike on eBay. Although there may be a better way, Pirate Bikes!