Enter Your Details & Get Your Free Valuation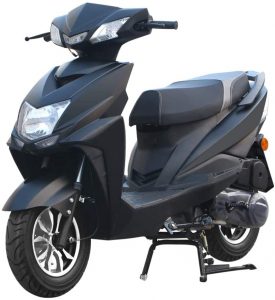 Mopeds are small, lightweight and get as there easy to store and cheap to run. Their very good on fuel. But like any other motorcycle or car they wear out and become old and outdated. This is when you should consider scrapping a moped to us. 
Remember we are just a phone call away.
Firstly you will need to get in touch with our either through the form or you can call us and sort it over the phone. We will get back to you within an hour with a quote. If your happy with what we offered you. We will send a driver to collect your moped at the time and data agreed. We do add a charge for collection on how you get for your moped. Then you will get payed in payment method requested e.g cash in hand at collection or card payment. Lastly we may sell your moped on or break it for parts.
Some Reasons you may need to scrap a moped:
Mot Failure, Unwanted , Damaged and too much to repair, End of Life, Engine not working, Not safe to use.
We Collect your moped whatever the condition.
Why you should choose us when scrapping a moped?
Competitive Prices Paid – We pay competitive prices for scrap mopeds, but most likely will give you a better price than any other company. 
We buy any moped – Yep, that is correct. Does you moped not run? Is your moped taking of space on your drive or garage? Whatever the condition, age or make and model. Pirate Bikes can collect it. 
Safe and Legal -All our driver are professional and trained to collect your scrap moped correctly and smoothly. Making your life easier. 
Free Collection – Unlike other companies that add hidden fees to trick the customer to pay more when collecting. We are honest and do not add hidden fee's. We don't add a collection fee to the price you get. 
Operating 7 days a week – We are open 7 days a week. Hours are slightly different on Sunday. Hours: Monday to Saturday – 8 am to 5 pm. Sunday: 9 am to 4 pm.
Environmentally friendly – We keep the environment in mind when getting rid of a moped at a authorised treatment facility. 
Is a motor scooter the same as a moped?
A motor scooter is a type of motorcycle that is typically not as powerful or fast as a motorcycle. Motor scooters may have handlebars and a seat or they may be more like bicycles with no handlebars. They are often seen as an economical alternative to motorcycles. The distinction between scooters and motorcycles can be hard to draw, but the most common way to tell the difference between the two types of vehicles is by looking at the engine size. Scooters are usually powered by engines under 50cc, which means that it's possible for someone without a driver's license or an intermediate license to take them out on public roads. Motorcycles, on the other hand, usually use engines over 50cc so you'll need either a driver's license or an intermediate license in order to drive one on public roads.
How fast can a 50cc moped go?
In general, a 50cc moped can go a top speed of about 28 mph.
250cc motorcycles can reach speeds of up to 130 miles per hour.
Is a motor scooter the same as a moped?
A motor scooter typically has less power than a moped and typically does not exceed 30 miles per hour. The two vehicles are the same in the sense that they are both powered by an engine, and both can be ridden on public roads. However, there is a significant difference between the two in terms of size, power, and speed.